AUTHOR, EDUCATOR, CHEF, AND ACTIVIST BRYANT TERRY TO LAUNCH 4 COLOR BOOKS, AN IMPRINT WITH TEN SPEED PRESS
Ten Speed Press announced the launch of a new publishing imprint with NAACP Image and James Beard award-winning author, educator, chef, and activist Bryant Terry. The new imprint, called 4 Color Books, will collaborate with the most forward-thinking and groundbreaking BIPOC chefs, writers, artists, activists, and innovators to craft visually stunning nonfiction books that inspire readers and give rise to a more healthy, just, and sustainable world for all. They will cover a variety of lifestyle topics including food, art, culture, wellness, and self-care.
4 Color Books is inspired by Terry's lifelong community-organizing work as well as his tenure as chef-in-residence at the Museum of the African Diaspora (MoAD), where public programming focuses on the intersection of food, art, culture, and the African Diaspora. Driven by a desire to diversify the book publishing industry, Terry will cultivate a community of BIPOC authors, designers, illustrators, and photographers, that will inject the imprint with a dynamic and necessary perspective.
"Books, whether my own or others, have been an incredibly important and transformative part of my life, helping to expand my mind and nourish my body," said Terry. "4 Color Books will amplify my ability to connect readers with new ideas, stories, and perspectives and to create captivating, inspiring, valuable books. I'm excited to realize my vision of a library that reflects the contribution of a diverse and inclusive creative community, and points the way to more mindfulness, health and equity in our individual lives and beyond."
4 Color's flagship publication will be BLACK FOOD: Stories, Art, and Recipes from Across the African Diaspora (October 2021), curated and edited by Terry. From Homeland to Migration, Spirituality to Black Future, each chapter of BLACK FOOD illuminates a part of the Black experience, offering delicious recipes, moving essays, arresting art from such luminaries as Black Panther Party creative director Emory Douglas and American artist Sarina Mantle, and stunning design by the acclaimed George McCalman.
More information can be found at www.4colorbooks.com.
Bryant Terry is the founder and editor-in-chief of 4 Color Books. An NAACP Image Award Winner and James Beard Award-winning chef and educator, Bryant is renowned for his activism and efforts to create a healthy, equitable, and sustainable food system.  Bryant is also the author of Afro-Vegan and Vegetable Kingdom. He is currently the chef-in-residence at the Museum of the African Diaspora in San Francisco, where he creates programming that celebrates the intersection of food, farming, health, activism, art, culture, and the African Diaspora. His work has been featured in the New York Times and Washington Post and on CBS This Morning and on NPR's All Things Considered. San Francisco magazine included Bryant among the 11 Smartest People in the Bay Area Food Scene and Fast Company named him one of 9 People Who Are Changing the Future of Food.
---
---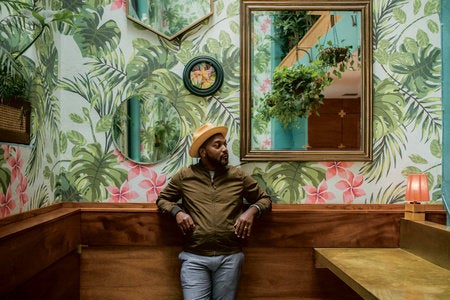 Photographed: Bryant Terry
© Celeste Noche