POV: You, an avid House of the Dragon watcher, are scrolling through your TikTok FYP. "One thing about me" story time? Scroll. Live video of someone painstakingly removing the shell from an egg (seriously, please tell me I'm not the only one that constantly gets this video)? Scroll.
And then… Olivia Cooke and Emma D'Arcy are doing a Q&A. What's D'Arcy's drink of choice?
A Negroni…
*eyebrow raise* …sbagliato….
*inviting shimmy towards Cooke* …with prosecco in it…
Stunning. 
And now, for completely unrelated reasons of course, you simply must have it. Never fear, we've got you covered. The Negroni covers everything you might ever want to know about this classic and delicious drink, with recipes for all kind of variations including, yes, the famed Negroni sbagliato.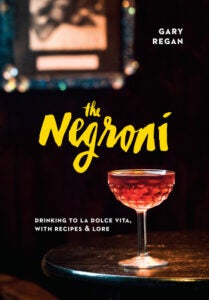 If you're looking for more cocktail (and mocktail!) inspiration for the upcoming entertaining season, check out some more of our favorite related books below!