Dive into some great summer reading books with Who HQ!! These books tell the incredible stories of trailblazers, legends, innovators, cool places, and important events–there's a Who HQ book to interest any young reader!
For age 8-12 years

| 

Grades 3-7:
Who Was? / ¿Quién fue?– Important figures, past and present
Where Is? /¿Dónde está? Important locations all over the world, past and present
What Was? /¿Qué fue?  Important historical and current events
What Is The Story About? Introducing young readers to classic fictional characters like Nancy Drew and Captain Kirk
What Do We Know About? Covering fun topics like the Loch Ness Monster, Atlantis, and Big Foot.
Who HQ Graphic Novels – Featuring full-color art and text by some of the medium's most celebrated writers and artists. Each book will portray pivotal moments in a historical figure's life
Who HQ Now– The newest Who HQ Now format featuring newsmakers and trending topics.
Check out Who HQ Workbooks for summertime, Science, Social Studies, English, and Reading for 2nd and 3rd graders!
Bring inspiring biographies to the youngest readers in an accessible and memorable way. Spanish editions available as well!
---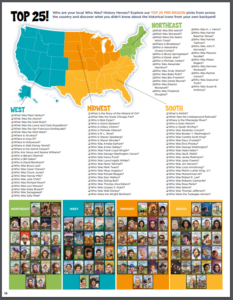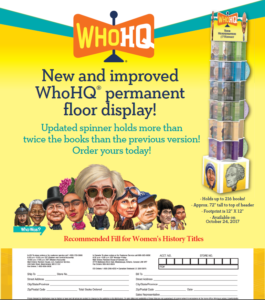 ---