What makes you unique? Find out with Little Ellen, the creative and lovable star of Ellen DeGeneres's debut picture book, based on her new animated series!
Hi! Little Ellen here! You know I love making people laugh, but did you also know that I am full of questions? SO many questions! And the one I am wondering most is what makes me, well, me?
Before she was an award-winning actor and talk show host, Ellen DeGeneres was a little girl in New Orleans. Get to know Little Ellen and the wonderful world she sees in this book of friendship and groovy moves, perfect for kids with big imaginations and even bigger hearts!
This joyful picture book promotes empathy and social-emotional learning, with an inclusive voice that encourages kids to be themselves.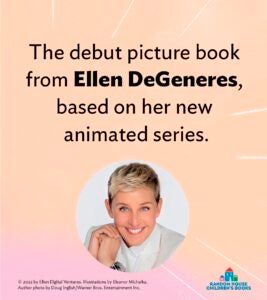 Enjoy this Promotional Video:
Ellen DeGeneres is a host, comedian, actress, entertainment pioneer, and bestselling author. For the past eighteen years, she's been known for her hit syndicated daytime talk show, The Ellen DeGeneres Show, which has earned sixty-four Emmy Awards. Little Ellen, her debut children's book, is based on an animated series of the same name that explores her childhood in New Orleans. Ellen is a global advocate for being true to who you are, no matter your age. You can follow her on YouTube, Facebook, TikTok, Instagram, and Facebook for more.
Eleanor Michalka is an artist based in Los Angeles. She is currently an art director for Netflix Animation. Her past work has been primarily on animated TV series such as The Midnight Gospel, Amphibia, Gravity Falls, Steven Universe, and Little Ellen. She is a native Texan and a lover of nature. You can follow her work on Instagram.