Q&A with Mayra Cuevas and Marie Marquardt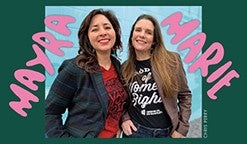 What inspired you to write DOES MY BODY OFFEND YOU? 
We met at the Georgia Romance Writers' Moonlight and Magnolias conference in 2012 and instantly connected. We became critique partners and for years exchanged our writing every week and gave each other feedback and encouragement. In 2018, we decided to collaborate on a coauthored young adult novel. While brainstorming ideas, we came across multiple stories of teens fighting against their schools' oppressive dress codes. These are dress codes that not only hinder the education of girls, but perpetuate sexism, victimization, rape culture, and racism. We recognized a story needing to be told.
As we drafted the story, we were very aware that many young adult novels tackling feminist themes had been written through a white gaze. We decided to write a dress-code protest story from two points of view, so that we could explore themes of feminism, allyship, and intersectionality in a very nuanced and authentic way. And because of our friendship, we were able to bring in the compassion and connection across differences that is sometimes missing in social justice narratives.
What was the most difficult part about writing the book? What part was the easiest?
The two main characters in our story, Ruby and Malena, have some incredibly hard conversations about race, power, and privilege. We wanted to be sure that these felt real and honest—that they were coming from a place of frustration and anger, yes, but also of love and mutual respect. We workshopped them again and again, sitting face-to-face with each other, speaking them aloud, to be sure that we got the tone and message right. All we can say is this: we did our very best!
The easiest parts to write were the scenes with Ruby and Malena surrounded by family, in their kitchens, sharing meals, laughing, crying and—of course—sometimes bickering. We both love food—cooking, eating, and writing about it! So, scenes involving big meals are always fun for us to create. We also have a great time writing complex families that somehow manage simultaneously to be loving, supportive, and utterly infuriating.
What character or element of the story do you identify with the most and why?
Malena comes from a modest Puerto Rican family with very traditional values. Ruby comes from white privilege and a liberal upbringing. When writing these characters, we both pulled from lived experiences, our own upbringing and worldview. We set out to build complicated characters that grow, adapt, and change in ways that felt authentic and relevant.
MAYRA: I grew up in a rural town in Puerto Rico to the same family-first values that anchor Malena. My awakening to topics like activism, feminism, and social justice came slowly and through many years of research. Like Malena, I still feel like I have so much to learn. I try my best to remain open because most of the time, I have more questions than answers.
MARIE: I grew up in northeast Florida, near the fictional high school where our story is set. Like Ruby, I was immersed in justice activism from a young age, but I sometimes struggled to grasp my own role and responsibilities. Also like Ruby, I was the youngest daughter in my family, and I idolized my older sisters. I definitely drew from my own experiences as I mapped Ruby's journey to independence.
If you could put any character from another book into this story, who would it be and why?
Starr Carter from The Hate U Give because Malena and Ruby need some serious help navigating the social justice space.
What do you want kids today to take away from this story?
One of the things that our books encourage young people to do is to think broadly about the ways we collaborate: when is it time to step back and listen, and when is it time to step forward and take action? When we take action too quickly, we often overlook the most important voices. If you are a leader, build coalitions. Learn to listen with compassion, and always work alongside others to open space for marginalized voices to be amplified.
We are all living in different spaces and we experience the same events in very different ways, depending on the color of our skin, social class, sexual preference, education, even our citizenship status. We need to realize how the choices we make are shaped and constrained by the unequal conditions in which we live, and we should find ways to challenge that status quo that encourage dialogue, collaboration, and building friendship—even across very real differences.
There are so many ways to promote change. We hope Malena and Ruby's story will inspire readers to advocate for change in ways that are safe and accessible, and that feel authentic. We hope this story will encourage building communities of support. When we have these, we can push boundaries and step outside comfort zones, while also feeling secure and affirmed.
What are you currently reading? 
MAYRA:
I read like 5 books at a time! So here it goes:
Last Night at the Telegraph Club by Malinda Lo
Cemetery Boys by Aidan Thomas
I Owe You One by Sophie Kinsella
Heart Principle by Helen Hoang
MARIE:
I only read one book at a time. I've just finished TJ Klune's delightful The House in the Cerulean Sea. I'm currently re-reading Aristotle and Dante Discover the Secrets of the Universe by Benjamin Alire Sáenz for the fifth or sixth time, while I wait for the next haul to come in from my local bookstore.
A timely story of two teenagers who discover the power of friendship, feminism, and standing up for what you believe in, no matter where you come from. A collaboration between two gifted authors writing from alternating perspectives, this compelling novel shines with authenticity, courage, and humor.
Malena Rosario is starting to believe that catastrophes come in threes. First, Hurricane María destroyed her home, taking her unbreakable spirit with it. Second, she and her mother are now stuck in Florida, which is nothing like her beloved Puerto Rico. And third, when she goes to school bra-less after a bad sunburn and is humiliated by the school administration into covering up, she feels like she has no choice but to comply.
Ruby McAllister has a reputation as her school's outspoken feminist rebel. But back in Seattle, she lived under her sister's shadow. Now her sister is teaching in underprivileged communities, and she's in a Florida high school, unsure of what to do with her future, or if she's even capable making a difference in the world. So when Ruby notices the new girl is being forced to cover up her chest, she is not willing to keep quiet about it.
Neither Malena nor Ruby expected to be the leaders of the school's dress code rebellion. But the girls will have to face their own insecurities, biases, and privileges, and the ups and downs in their newfound friendship, if they want to stand up for their ideals and––ultimately––for themselves.