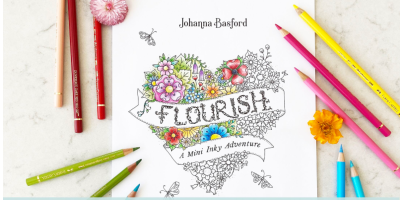 Penguin Books author Johanna Basford, universally recognized as "The Queen of Coloring," has created a new 12-page mini coloring book, FLOURISH: A Mini Inky Adventure, which can be downloaded for free at www.johannabasford.com/flourish.   
"There's no escaping the chaos and fear Covid-19 is having on our world," Basford says. "The global crisis is dark and scary. But in the wee small hours of yet another sleepless night, I decided to channel my worry into a project that could help … Inspired by the best loved pages from my previous books, along with some sneak peeks at new work."
Basford adds, "We all know coloring can relieve stress, ease anxiety and be an incredible mood booster; so now felt the perfect time to grab my pens and pencils and do what I'm best at… creating some new images for you to color… then giving them away for free!  Whether you are staying home in lock down, recovering from symptoms or on quick break from your essential front-line work, coloring is the self care tool that anyone can dip into…
Have fun exploring and coloring the new book and I can't wait to see how you bring these pages to life with your beautiful colors!"
Penguin and Basford are also inviting readers to donate to a charity providing necessary food bank resources in these times, including Feeding America, Food Banks Canada, and The Trussel Trust  (UK).
Special Bonus:
Basford is hosting daily live events on her Facebook page and her daughter is hosting a weekly spotlight drawing tutorial.
Check out a selection of Basford's beautiful coloring books published by Penguin, including  HOW TO DRAW INKY WONDERLANDS, WORLD OF FLOWERS, MAGICAL JUNGLE, and LOST OCEAN.