Branching off of the success of Meet your Fellow Penguins, in this new blog series we will begin to introduce you to our many and varied publishers!! Each month we will feature a new publisher so you can learn more about the goals and ideals of the people behind the books. Meet Moneka Hewlett from Quirk!
How would you describe Quirk publishing as a whole?

It's all in the name! We're a bit quirky. Quirk is creative, fun, and funny, although sometimes our dark side comes out. We publish around 30 strikingly unconventional books per year into all categories and age ranges.
We create books and stories that are bold, unprecedented, beautifully designed, and affordable.
What are Quirk's strengths as a publisher?
Every title is a labor of love born out of our passions and obsessions. We're always looking to, and often do, set the next trend in publishing.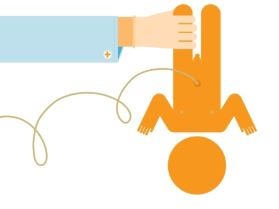 How long have you worked for Quirk? / How did you get into publishing? 
I will celebrate my 8th year anniversary with Quirk this summer. My publishing career began on the magazine side of the business, but once given the chance to work around books there was no going back! (Congratulations Moneka!!)
What are your favorite Quirk books?
The Astrology of You and Me, The Baby Owner's Manual, A Beautiful Day in the Neighborhood, and, on the fiction side, My Best Friend's Exorcism.
What is one of your favorite books to have worked on?
A Beautiful Day in the Neighborhood.
What's a new book you're really excited about and why?    
I'm excited for children to get a joyful, inclusive, and accepting introduction to the many types of people that surround them in the world, and for children who may be questioning who they are are, I think this book will provide some validation and happiness.
I also think this is going to charm and warm the hearts of adult LGBTQ+ community members who wish a book like this had been available when they were young.
And the sales side of me is excited about this books potential as a crossover hit in both the children's and adult gift worlds.
What's your favorite kind of gift store to shop in?
I love a well-curated store that shows the personality of the owner/buyer consistently through multiple products and items. A good example is Open House in Philadelphia.
What is your personal favorite genre and/or book(s)?
I adore cookbooks and have a pretty decent and growing collection.
What are you currently reading?
Quirk's Kid Activists—ARCs are available now!
(Kate Brown left and Moneka Hewlett right)
Thank you Moneka!!


---