It is a very unfortunate and frightening reality that book banning and censorship has been on the rise. Penguin Random House is determined to counteract these harmful actions in any way we can. Our CEO of Penguin Random House U.S., Madeline McIntosh, said it best below. Please read her statement and visit Penguin Random House's Banned Books Resources Hub or Penguin Young Reader Censorship Resources Site for more information.
"Of all the bad things citizens have to worry about these days, there's one in particular that I just can't believe is still with us: book banning.
As publishers, we are grounded by our beliefs in the inherent value of the open exchange of ideas, and in the power of narratives to broaden perspectives and strengthen human empathy. But these beliefs, and the equitable access to books they support, are under serious threat. Book bans are not new, but the dramatic increase in the number of bans and challenges, along with the tactics being used, is unprecedented.
At Penguin Random House, we are dedicated to protecting the freedom of expression and carry an obligation to protect writers from censorship. To underscore this commitment, we have created a Banned Books Resources Hub featuring tools, materials, and organizations that our valued partners… can turn to as bans and challenges spread across the country. The Hub also contains a contact form for people to report new instances of PRH titles being banned so we can better track these increasingly widespread conflicts… We will remain steadfast in our defense of the freedom to read and to our commitment to combatting censorship."
Full title list of: Penguin Random House Banned & Challenged Books
---
Banned or Challenged Books and Why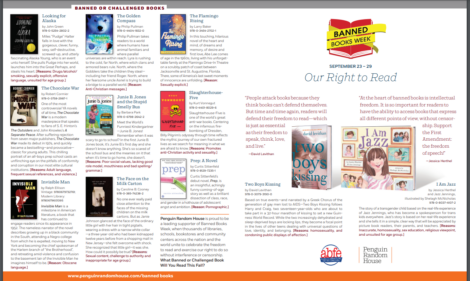 ---