READ TOGETHER, BE TOGETHER is a literacy initiative launched jointly by the children's divisions of Penguin Random House, together with PARENTS and First Book. The program kicks off with a virtual storytime program beginning today, to be hosted daily at 3PM EST  / 12PM PST, and featuring a roster of author and celebrity readers!
The full schedule can be found on the campaign website here, as well as reading tips for parents, book lists, printable activities, and videos. 
Up next….
Week 3 of our READ TOGETHER, BE TOGETHER Virtual Storytime program kicks off today at 3 PM EST / 12 PM PST,
with EMILIA BECHRAKIS SERHANT reading TO THE MOON AND BACK FOR YOU!
This week's full schedule is below.
Monday, 4/6 – Emilia Bechrakis Serhant (@emilia_bechrakis) reads TO THE MOON AND BACK FOR YOU by Emilia Bechrakis Serhant on IG Live
Tuesday, 4/7 – Matt de la Peña (@mattdelapena) LAST STOP ON MARKET STREET by Matt de la Peña on IG Live
Wednesday, 4/8 – R.J. Palacio (@RJPalacio) reads WE'RE ALL WONDERS by R.J. Palacio on Twitter Live
Thursday, 4/9 – Alan Cumming and Grant Shaffer (@alancummingsnaps) reads THE ADVENTURES OF HONEY & LEON by Alan Cumming on IG Live
Friday, 4/10 – Jan Brett (@JanBrett) reads THE EASTER EGG by Jan Brett on Facebook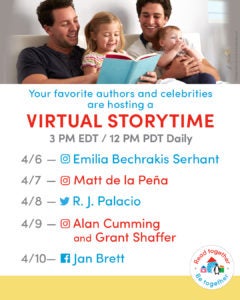 Follow @PenguinKids and @RandomHouseKids for updates!